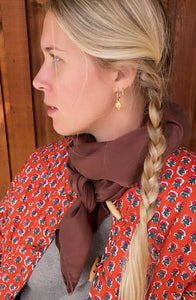 Beautiful black walnut over madder root creates a dark chocolate brown with red undertones.
Gorgeous!
I chose the the redwood silk scarf for my partner' birthday since they love to wear bandanas for most days at work as a gardener. It's beautiful, such a rich and special color thats useful as a true neutral!
Perfection again!
I have both the medium and large silk scarves and you really can't go wrong! I think the medium is more universal as far as how/when during the year you can wear it, whereas the large is more of a fall/winter staple, but they're both wonderful. The redwood is a warm, neutral, color that is perfection.
Stunning!
I have many little Honeydove scarves and I love them all dearly. I've been wanting a medium one for quite some time and I finally ordered a redwood beauty. All I can say is, why did I wait so long this is absolutely perfect?! The medium size offers more coverage in the cold and the color is stunning. Couldn't be happier!
Just perfect!
So cozy and such a gorgeous color that matches a lot of things already in my closet. I got the medium and its the perfect size for me to keep my neck warm but not be too bulky while I'm working.
Fave earthy tone
Love love this scarf color. I own a few of honeydoves sold scarves but the earthy tone of this one is my most worn. It might wrinkle but simply hang in the bathroom when you take a hot shower and they come right out.