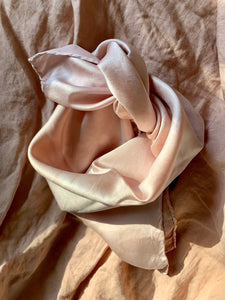 BEAUTIFUL shell 
dyed with: avocado pits
color is a very pale earthy pink with variations.

Beautiful scarf!
I love my soft pink scarf from Charlotte! It goes between my neck and my sons all year long. I would love one in every color! Just gorgeous, delicate and soft.
the most delicate hue
Each time I scroll through the scarves to pick out a new color, I ALWAYS stop at this one - even though I already have it! It's simply the most lovely color, a staple for all seasons and outfits. The aptly named Shell is a stunner; a beautifully made piece that invokes summer days & creamy blush softness.
I wear this scarf almost everyday in the winter. It's so warm but breathable. It double wraps so beautiful for a cozy look. Can't wait to get more colors
timeless fashion
The soft glow of this scarf pairs well with sun kissed skin. I wore this all summer tied around my head like a bandana...I adore this piece.
Such a great scarf!
I have the standard size scarf in the beautiful shell color and it's such a lovely layering piece! It's a a great accessory and I often tie it to my bag strap, wear around my neck, or wrapped in my hair.