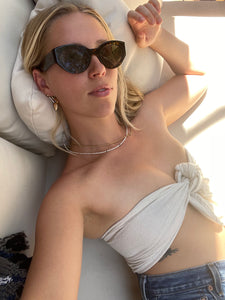 11" in width and 60" at length. How much extra room you have to tie will depend on overall bust ❤️ 
My Go To
I'm so glad I jumped on this because i quite literally lived in this bandeau during the heat waves this summer and its still so wearable with a little cardigan over it with high waisted jeans. Now I'm prepared for next summer and literally any vacation we take! I double knot mine and start it out very tight and let it loosen while i wear it, but its never so loose that I worry it will fall off. The fabric is really high quality and this is definitely a forever piece for me!
Great for coverings!
I bought this to use as a head covering predominantly. Bandeaus work great as a head scarf as they can wrap fully around your head.
Bandeau of your dreams!
I've tried to use scarves for bandeaus before but it never works right. Charlotte's raw silk bandeau is the perfect shape and size. Mine is dyed with cochineal and iron the most perfect deep pink wine color!